Home
»
Product List
» Metal Cutting (Sheet Metal Cutting, CNC Plasma Cutting, CNC Flame Cutting, CNC Laser Cutting, CNC Waterjet Cutting, CNC Metal Sawing)
Metal Cutting Service
Yinuo is a professional CNC metal cutting solution service supplier in China. We provides a high quality affordable CNC cutting solution service according to customer requirements or drawings. Our customizable metal cutting service including: sheet metal cutting, cnc plasma cutting, cnc flame cutting, cnc laser cutting, cnc waterjet cutting, and cnc metal sawing. The metal cutting widely used in cut processing of metal sheet, metal pipe, metal bar, steel strip, aluminum profile, steel profile, metal parts and so on.
The commonly CNC metal cutting materials as follows:
Carton Steel, Stainless Steel, Aluminum, Copper, Brasss, Metal Alloy, etc.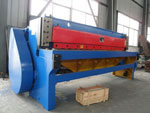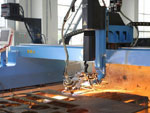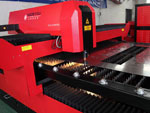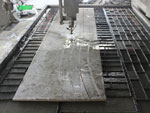 Cutting Thickness: 0.5mm - 6mm
Cutting Methods: Shearing Machine, CNC Laser Cutting, CNC Plasma Arc Cutting, CNC Water Jet Cutting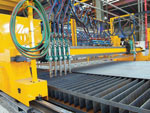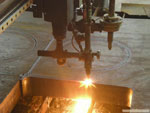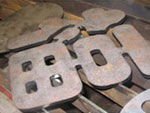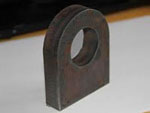 CNC flame cutting (oxy-fuel Cutting) use of the high temperature oxidation to cut. The flame cutting torch is designed to provide sufficient oxygen to ensure good cutting size and shape. CNC flame cutting is widely used in cut carbon steel plate and alloy steel plate. It's the best choice for low cost cutting.
Cutting Thickness: 6mm – 200mm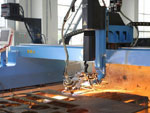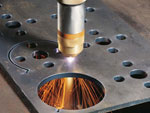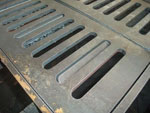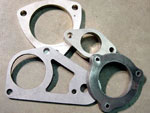 CNC plasma cutting is a cutting process by high-temperature plasma arc to cut metal plate. The common materials for metal plasma cutting: steel, stainless steel, aluminum, brass, copper, etc. CNC plasma cutting is widely used in metal fabrication, welding process, automotive repair and metalworking. It has advantages of high speed, precision cuts, smooth surface and low cost.
Cutting Thickness: 0.5mm – 100mm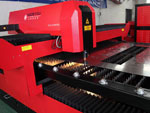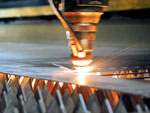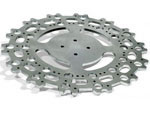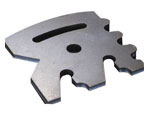 CNC laser cutting is a cut processing by directing the output of a high-power laser beam for cut materials. It's widely used in cut carbon steel sheet, stainless steel sheet and aluminum sheet. CNC laser cutting has the advantages of highly reproducible results with narrow kerf width, minimal heat-affected zone and little-to-no distortion. The laser cutting process is flexible, easy to automate and supports high speed cutting with excellent quality. CNC laser cutting is the best choice of high-quality metal sheet cutting.
Cutting Thickness: 0.1-12mm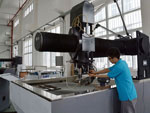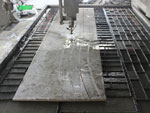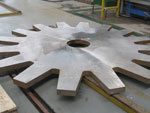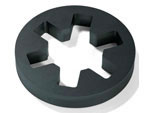 CNC waterjet cutting is an cut technique capable of cutting a wide variety of materials using a high-pressure jet of water, or a mixture of water and an abrasive substance. CNC water jet cutting can be cut to various of size and shape by computer control.
Cutting Thickness: Less than 20mm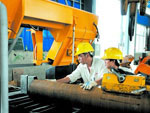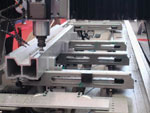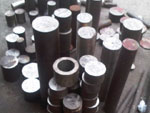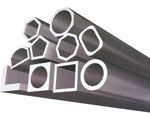 Customizable low cost CNC metal sawing service, the CNC saw cutting materials include: steel pipe (circular, rectangular, triangular, hexagonal, oval and special shape), steel bar (various shapes), steel strip, aluminum profile, steel profile and so on.
Cutting Diameter: 20mm - 650mm
Custom Metal Cutting Service:
We provides a low cost metal cutting solution service according to customer requirements or drawings. And we also provide the following services:
1. Heat Treatment
Hardening, Annealing, Normalizing, Stress Relieving, Softening, and Graphitization
2. Machining
Turning, Boring, Drilling, Milling, Threading, Grinding, Cutting, Engraving, EDM Machining, Riveting
3. Welding
4. Surface Treatment
Metal Polishing (Metal Mirror Polished, Brushed Metal Finishing), Shot Blasting, Sandblasting, Spray Painting, Powder Coating, Thermal Spraying, Anodizing, Chrome Plating, Nickel Electroplating / Electroless Nickel Plating, Hot-Dip Galvanizing, Copper Plating, Phosphorizing, Electrophoresis and Passivation
5. Assembly
Stud, Steel Sall & Helicoil Inserts, O-ring, Gasket
6. Packing
7. Testing Report, QC Report